Hyundai i30 N.
The i30 N is Hyundai Motor's first high-performance car under the N line up.
Built on the Reinvented i30, the i30 N has been developed from the ground up to deliver maximum driving pleasure in everyday life on the road, as well as on the track.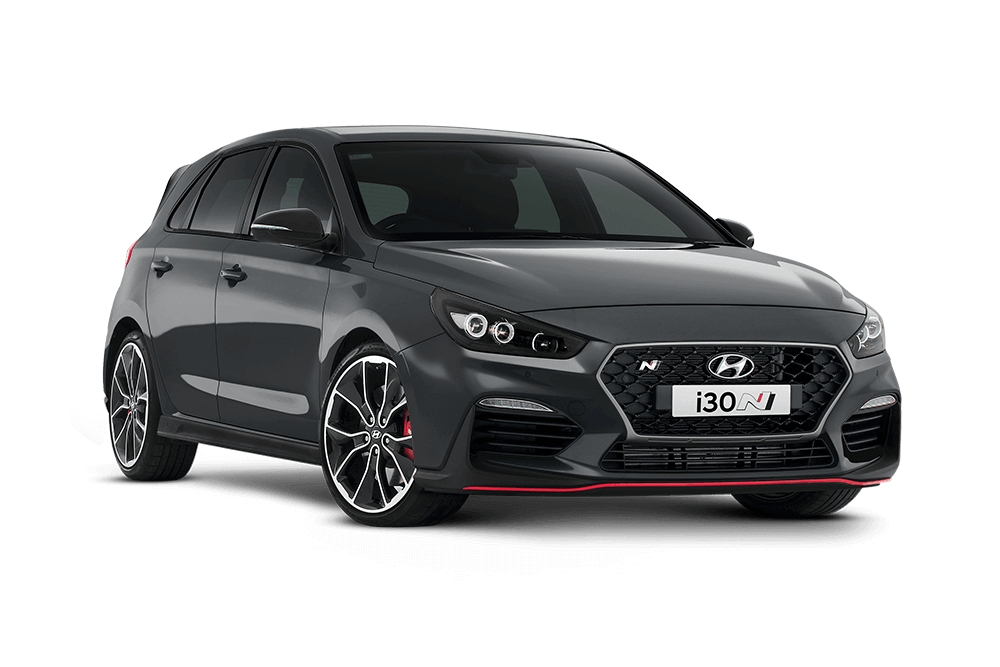 i30 N Performance 2.0L Petrol Turbo 6-Speed Manual 2WD
N Features:
Hatch
2.0L Petrol T-GDi
6-Speed Manual 2WD
Enquire
i30 Fastback N Performance 2.0L Petrol Turbo 6-Speed Manual 2WD
Fastback Features:
Fastback
2.0L Petrol T-GDi
6-Speed Manual 2WD
Enquire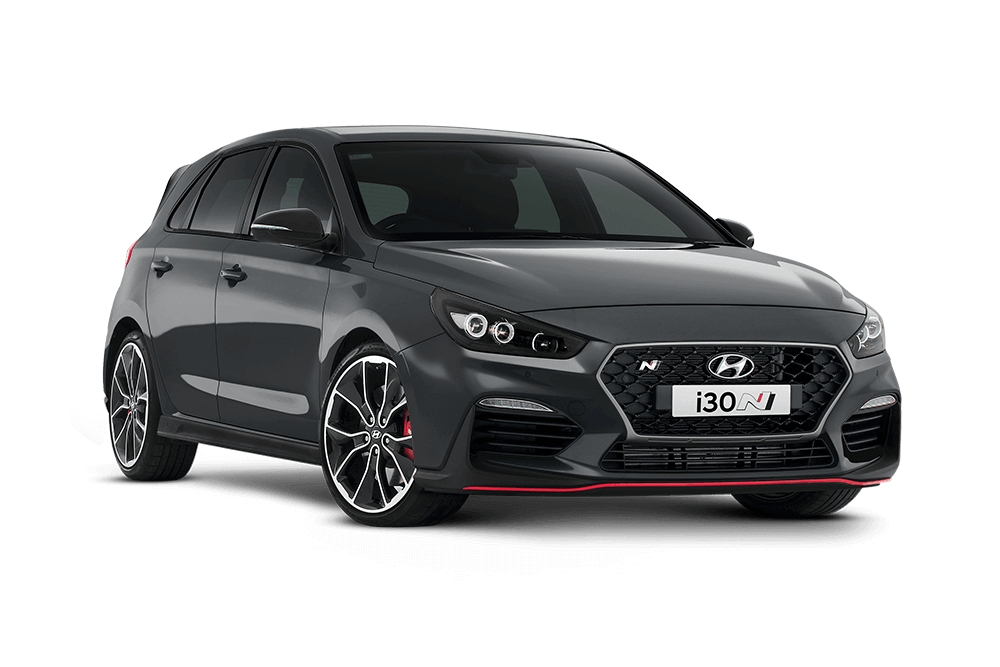 i30 N Performance 2.0L Petrol Turbo 6-Speed Manual 2WD with Luxury Pack
N with Luxury Pack Features:
Hatch
2.0L Petrol T-GDi
6-Speed Manual 2WD
Enquire
i30 Fastback N Performance 2.0L Petrol Turbo 6-Speed Manual 2WD with Luxury Pack
Fastback with Luxury Pack Features:
Fastback
2.0L Petrol T-GDi
6-Speed Manual 2WD
Enquire
Born in Namyang, honed at the Nurburgring.
The 'N' stands for Namyang, Hyundai Motor's global R&D Centre in Korea, where the idea was born, and for the Nürburgring, home to Hyundai Motor's European Test Centre, where the N line up was further developed and tested.
The N logo symbolises a chicane, the ultimate corner where the i30 N has been tested thoroughly, representing the ultimate driving experience on winding roads.
Powerful 2.0 litre Turbo-GDi engine delivers up to 202kW and 353 Nm torque.
The i30 N's 2.0-litre turbocharged direct injection engine offers two states of tune – a standard tune with 184 kW, as well as a Performance Package with maximum power of 202 kW. Both versions deliver a maximum torque of 353 Nm, with the Performance Package vehicle completing the 0-100km/h sprint in 6.2 seconds.
High-performance.
State-of-the-art high-performance technologies provide an dynamic and engaging driving experience. With four drive modes – Normal, Sport, Eco, and N-mode, plus a driver-selectable Custom mode, the driver can tailor the driving experience to their tastes and the specific driving scenario.
Exclusive "N" interior.
The exclusive N sports interior includes heavily bolstered N sports seats, bespoke N steering wheel with dedicated N-mode button, as well as an N specific race computer which features a lap timer, G-force meter, boost gauge, and programmable custom drive-mode control.
19-inch alloy wheels Pirelli P-Zero tyres.
The i30 N with Performance Package comes with 19-inch Hyundai N specific Pirelli P-Zero high-performance tyres, distinctive red N brake calipers, as well as 345mm front brake discs
Sport seats
The i30 N features uniquely designed high-performance sport seats with powerful lumbar support. Extendable seat cushions further enhance stability and comfort for the driver and front passenger
Rear design.
At the rear, the triangular third brake light in the new glossy black spoiler and the double muffler exhaust underline the eye-catching look of the sports hatchback.
Form and function.
The i30 N features a unique exterior design to cheat wind and win hearts.
19" alloy wheels
Unique 19-inch alloy wheels are proudly embossed with the N logo and fitted with 235/35 R19 Pirelli P-Zero HN high-performance tyres specifically developed for the i30 N.
Dual-level rear spoiler
The i30 N's aggressive bumper and apron team with an aerodynamic rear spoiler featuring a signature triangular brake light.
High-performance brakes
Front brake discs measuring 345mm in diameter are clamped by distinctive red N brake callipers to deliver strong and fade-resistance stopping power.
The inside line.
Inside, it's unlike any other. The exclusive N sports interior is tailored to seduce and satisfy the enthusiast driver.
Sports front seats
Heavily bolstered front bucket seats, available in cloth or synthetic suede/leather has been designed to provide exceptional support and comfort.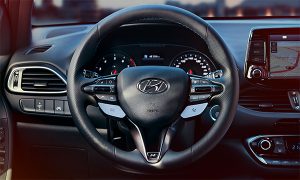 N steering wheel with dedicated N-button
In front of the driver sits the bespoke N steering wheel with dedicated N-mode button as well as an N-specific race computer which features a lap timer, G-force meter, boost gauge and launch control.
Packed with tech.
The i30 N comes with an 8" multimedia touchscreen with DAB+ radio and satelitte navigtation, Apple CarPlay™ & Android™ Auto compatibilty and wireless smartphone charging*.
Performance, reimagined.
The heart of any high-performance car is of course its engine. The i30 N features a specially developed 2.0-litre four-cylinder powerplant featuring direct injection, variable valve timing and turbocharging to produce 202kW and 353Nm. An overboost function allows peak torque to rise to 378Nm for brief full-throttle.
Active variable exhaust system.
The twin-outlet active exhaust has three settings, allowing the driver to select the ideal level of exhaust sound for the conditions – keep it subdued around town, or allow the engine's full vocal range to be enjoyed when the open road or track1 beckons. In its most sporting setting, throttle lifts and downshifts bring a thrilling volley of rasping crackles and pops that have to be heard to be appreciated.
Traction and stability control.
A lower, firmer suspension tune combined with electronically controlled dampers that continuously adjust damping force (based on road conditions, vehicle speed and driver inputs) means the i30 N delivers exceptional turn-in characteristics and body control, without sacrificing the ride compliance needed for daily driving comfort.
Electronic Limited Slip Differential (E-LSD)
The electronically-controlled mechanical limited slip differential (e-LSD) distributes torque intelligently between the two front wheels depending on throttle inputs, steering angle and cornering force. This technology reduces wheelspin and understeer while increasing traction and cornering speed, thus allowing the driver to extract maximum performance from the i30 N.
Technology for safety
Naturally the i30 N is fitted with seven airbags, Tyre Pressure Monitoring System (TPMS) and the very latest safety systems. Central to this is the standard inclusion of Hyundai SmartSense™, which brings Autonomous Emergency Braking (AEB) – City, Forward Collision Warning (FCW), Lane Keeping Assist System (LKAS), and Driver Attention Alert (DAA).
Combining radar and camera data, the AEB system autonomously activates the brakes when it detects stationary vehicles, or dangerous and sudden braking by the car ahead or pedestrians on the road.
Monitors vehicle activity ahead and alerts the driver upon detecting an imminent collision.
LKA provides steering intervention to assist the vehicle to stay in the centre of the lane. When the vehicle strays from the intended lane without indicators being activated, an audible and visual warning will be sounded.
Hyundai by your side.
We've tried to make sure you find every stage along the path to owning a Hyundai a thoroughly positive experience. From flexible financing and tailored insurance cover, to sat-nav map updates and fixed-price servicing, we'll make available everything you could need to get the most out of your new car, now and way down the road.
View - iCare terms and conditions.
The Hyundai CarPlan from Hyundai Finance is a feature which ensures you receive the Guaranteed Future Value (determined by Hyundai Finance) at the end of the term of your contract when you return the vehicle or trade it in at a participating Hyundai Dealer in accordance with the terms and conditions. To exercise the feature your vehicle must be inspected and assessed by a participating Hyundai dealer at the end of the term of your finance contract. Adjustments to the value may apply. You receive the Guaranteed Future Value for the car if you exercise the feature at the end of the term and purchase a new or demonstrator Hyundai at the same time. The amount you receive on trade in will satisfy the final repayment, even where the trade in is less than the repayment amount. Available only to approved applicants of Hyundai Finance.™Subject to credit assessment and for consumer applications, responsible lending criteria. Fees and charges apply. Fleet, government, rental buyers, hire car and chauffeur companies are excluded. Hyundai Finance™ and Hyundai CarPlan™ are registered trademarks of Hyundai Motor Company used under sublicence by St.George Bank – A Division of Westpac Banking Corporation ABN 33 007 457 141 Australian credit licence 233714. Hyundai Finance is the registered business name of Hyundai Motor Company Australia Pty Ltd ABN 58 008 995 588.
[H1] The Guaranteed Future Value is not a representation by Hyundai Finance™ as to the likely market value of your vehicle as at the end of your finance contract. If the Guaranteed Future Value applies and the vehicle is not returned in an acceptable condition, as defined in the terms and conditions or exceeds kilometre restrictions, the Guaranteed Future Value will be reduced and you'll be required to pay the difference. Subject to the Guaranteed Future Value Terms and Conditions (available upon request).
[H2] The feature is available on all new and demonstrator Hyundai vehicles on selected models only. Please verify with your dealership which vehicles are eligible for the programme.
[H3] Please read the full terms and conditions. Please consider whether these products and services are appropriate for your circumstances. Before acting on any of the information, please seek independent tax advice. Full terms and conditions are available upon application.
[H4] Your total interest charged may be higher if you choose the Guaranteed Future Value feature for your loan, compared to a loan without the feature.
[H5] Subject to the Guaranteed Future Value Terms and Conditions (available upon request).
[H6] Pre-Paid Service Plan: Prices shown are RRP and are inclusive of GST.
For scheduled services only, including parts. Does not include wear and tear items: eg, brake pads. Hyundai Pre-Paid Service Plan full terms and conditions.
Only applies to vehicles for which, at the time of sale, services under a Pre-Paid Service Plan are yet to be redeemed in accordance with all Terms and Conditions. For full Terms and Conditions, please download the PDF.
Select Your Variant
Choose Your Enquire Type
Overview

view

| Condition: | |
| --- | --- |
| Manufacture Year: | |
| Make: | |
| Model: | |
| Badge: | |
| Series: | |
| Body type: | |
| Seating Capacity: | |
| Exterior Colour: | |
| No. of Gears: | |
| Transmission: | |
| Drivetrain: | |
| Engine: | |
| Fuel Type: | |
| Kilometres: | |
| Registration Plate: | |
| Stock No: | |
| VIN: | |
Finance Calculator

view

Results:

* The calculations performed and the results provided by the calculators on this website are estimates only and should be treated as a guide. The calculations and information provided using the calculators should not be your only source of information and advice when making financial decisions. For a quote or to apply for finance please contact us.
Lilydale Hyundai
---
Trading Hours
Sales Trading Hours

Business Opening Hours

| Day | From | To |
| --- | --- | --- |
| Monday | 08:30 AM | 06:00 PM |
| Tuesday | 08:30 AM | 06:00 PM |
| Wednesday | 08:30 AM | 06:00 PM |
| Thursday | 08:30 AM | 06:00 PM |
| Friday | 08:30 AM | 06:00 PM |
| Saturday | 08:30 AM | 05:00 PM |
| Sunday | Closed | Closed |

Service / Parts Trading Hours

Business Opening Hours

| Day | From | To |
| --- | --- | --- |
| Monday | 07:30 AM | 05:00 PM |
| Tuesday | 07:30 AM | 05:00 PM |
| Wednesday | 07:30 AM | 05:00 PM |
| Thursday | 07:30 AM | 05:00 PM |
| Friday | 07:30 AM | 05:00 PM |
| Saturday | Closed | Closed |
| Sunday | Closed | Closed |
---
Location
---
---
Call Us
Lilydale Hyundai Service Center
328-344 Main Street, Lilydale VIC 3140
browse vehicle by condition
browse by make + model + badge